Comb and Wire Binding
Comb Binders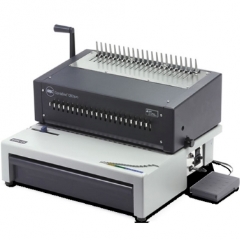 Order
To add products to your shopping cart, enter the quantity next to the corresponding unit you wish to order and click the Add To Cart button down the page. All prices exclude GST.
Description
Product Code
U.O.M
Stock
Qty
Colour
Price
Renz Combi-S PlastiComb Binder 26340020

code -

26340020
1
in stock

$955.00

Excl. GST

4 payments of

$238.75 (Excl.GST) with

Info

The Renz Combi S is a manually operated punch and binding machine, up to max. size 34 cm. For all documents up to 24 cm (13.5") binding width. A combined two-lever system for manual punchi......
Renz Combi-Comfortplus Comb Binder 27340340

code -

27340340
1
EST DELIVERY
2 WEEKS - 3 WEEKS

$3,099.00

Excl. GST
Desktop plastic comb punching and binding machine. For all types of comb book production. Designed to produce documents of all sizes in low and medium volumes quickly and easily. This electric punc......
MANUAL COMB CLOSER CBM-650

code -

CBM-650
1
in stock

$245.00

Excl. GST

4 payments of

$61.25 (Excl.GST) with

Info

The CBM650 modular unit is designed to work as a stand alone unit, as well as a mounted module to one of our comb binding punches such as VersaMac. • The unique ambidextrous design of......