Equipment
OKI White Toner Printers
Unique in the print industry, the OKI White Toner Series provides the flexibility to print vibrant full-colours including printing in white on a wide range of media including colour paper, clear film and transfer media.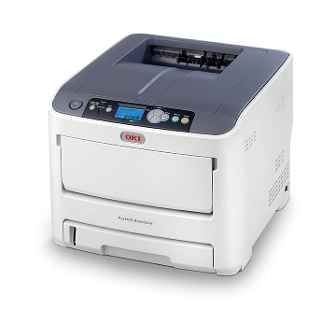 Order
To add products to your shopping cart, enter the quantity next to the corresponding unit you wish to order and click the Add To Cart button down the page. All prices exclude GST.
Description
Product Code
U.O.M
Stock
Qty
Colour
Price
A4 BLACK & WHITE LASER PRINTER

code -

HLL2365DW
1
in stock
$199.95 Excl. GST
If you need to print black and white documents, and you want the crisp, clean, fast print of a laser, this printer offers economical running costs. It also prints double-sided. The HLL2365 offers U......
OKI Pro7411WT

code -

44205445
1
EST DELIVERY
1 DAYS - 3 DAYS
$6,212.00 Excl. GST
he Pro7411WT A4 white toner printer prints in any colour, including white, on dark and transparent media. Innovative technology gives designers, graphics studios, manufacturers and creative businesses......
OKI Pro8432WT

code -

46396654
1
in stock
$8,773.00 Excl. GST
A breakthrough in printing technology, the Pro8432WT A3 white toner printer prints in any colour including white. Easy-to-use, affordable and ideal for creative, graphics arts use, the Pro8432WT pr......
OKI Pro6410 NEON

code -

44205344
1
EST DELIVERY
1 DAYS - 3 DAYS
$4,330.00 Excl. GST
The Pro6410 NeonColor printer frees creative businesses from the limits of the standard CMY spectrum. Delivering super fast return-on-investment this groundbreaking technology enables printing of b......
OKI Pro9431

code -

45530407
1
EST DELIVERY
1 DAYS - 3 DAYS
$8,083.00 Excl. GST
Designed to meet the needs of the graphic arts and creative industries with the versatility to serve general office requirements, the Pro9431 delivers vibrant, high-quality colour printing on a wid......
OKI Pro9541

code -

46220201
1
EST DELIVERY
1 DAYS - 3 DAYS
$22,712.00 Excl. GST
An industry first, the Pro9541 takes digital printing to a new level with the option of printing in CMYK plus the addition of a fifth spot colour in white or clear gloss for high quality, high perf......
OKI Pro9542

code -

45530622
1
EST DELIVERY
1 DAYS - 3 DAYS
$22,712.00 Excl. GST
Designed for ultimate high-impact graphic arts and light production use, the flexible Pro9542 delivers high quality CMYK plus high density white-under single pass printing, generating vibrant, stan......