Laminators
Roll Laminators
From desktop to wide-format, carternz has a full line of lamination products to provide a professional finish. Whether your choice is heat activated or pressure sensitive, we can offer a full solution that will enable you to expand your output capabilities.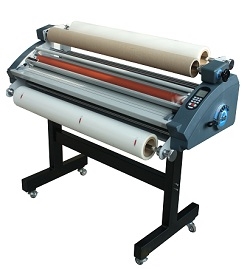 Order
To add products to your shopping cart, enter the quantity next to the corresponding unit you wish to order and click the Add To Cart button down the page. All prices exclude GST.
Description
Product Code
U.O.M
Stock
Qty
Colour
Price
380mm HOT ROLL LAMINATOR

code -

LAM380
1
in stock
$2,454.00 Excl. GST
Max. Laminating Width: 350mm(13.5") Max. Laminating Speed: 4m/min Max. Laminating Thickness: 13mm Heating System: Heating roller internal heater Q'ty of Roller: 4 Tempe......
RS 15in HOT ROLLER LAMINATOR

code -

RSH-380SL
1
EST DELIVERY
2 WEEKS - 3 WEEKS
$2,599.00 Excl. GST
The Royal Sovereign RS 380SL is perfect for laminating and encapsulating individual and multiple copies of prints. It also has the added feature of a decurling bar for single side jobs such as busi......
GBC Ultima-65 laminator

code -

ULTIMA-65
1
EST DELIVERY
2 WEEKS - 3 WEEKS
$3,750.00 Excl. GST
With the Ultima 65 laminator, it's easy to protect and preserve your most important printed teaching tools. The EZ Load film system makes loading fool-proof, while the pivoting feed table provid......
RS 1062 HOT ROLLER LAMINATOR

code -

RS1062HR
1
in stock
$6,199.00 Excl. GST

Mounting, hot and cold lamination the Royal Sovereign RS- 1062 is the ideal machine for the small digital printer and photoshop.