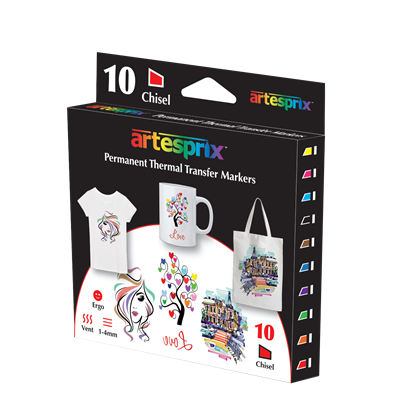 ARTESPRIX SUBLIMATION MARKERS

MARK10
Transfer Drawings from Plain Paper to White or Light Colored Polyester Fabric or Polyester Coated Materials
Unleash your inner artist! Now you can transfer your designs from plain paper to almost any polyester fabric or polyester coated items with our unique sublimation process.
Whether you want to design a personalized Mother's Day gift, or sell custom creations on Etsy, with Permanent Thermal Transfer Markers from Artesprix you can make sure your drawing is just right before transferring the final image. What will you create with your Artesprix markers?
Permanent Thermal Transfer Markers are designed to allow you to add your personal touch to everyday items such as apparel and décor using the sublimation heat transfer process
Was: $54.95 Now: $27.50
Excl. GST