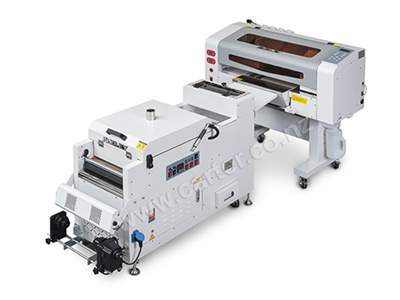 DTF PRINTER 30cm

AUD30
The AUD30 DTF printing system is a fully automated system designed to create DTF transfers.
DTF (Direct To Film) is an alternative printing process to DTG, White Toner Transfers and HTV. Once heat pressed the water-based ink is transferred to the garment in just seconds.
Prints can be applied to Cotton, Polyester, Nylon, Denim and much more. DTF is taking the world textile industry by storm. It has quickly become one of the most popular technologies for garment decoration.
Say goodbye to Weeding, Pre-treating, B-Papers and being limited to certain substrates. Say hello to DTF!
The System comes complete with Laptop or PC pre-loaded with Cadlink Digital Factory DTF Software. Our qualified technician will install the system and provide onsite training.
Installation and delivery costs may vary depending on location.
Check at the video at the bottom of this page to see this unit in action at our warehouse.
$12,500.00
Excl. GST
$14,375.00
Inc. GST
Product info
2 x i-3200 Printheads CMYK WWW
Media Width 300mm
Climate control set to 20-25 degrees Celsius and 40 - 60% humidity
Vent to the outside. Fumes are harmful.
Speed 15+ 250mm x 250mm per hour (6 pass) 720 x 1400dpi
A/C 10 amps 2 Dedicated circuits (1 for printer and 1 for dryer)
Dimensions
Printer: 1100 wide x 750 deep x 1080mm high
Dryer: 530 wide x 1650 long x 800 high
Estimated Entire Footprint for the Setup: 1500 wide x 2700mm deep
Warranty
Printer and Shaker unit - 12 months warranty
Printheads - 6 Months warranty