Dye Sublimation Blanks, Inks & Paper
Chromaluxe Metal Prints
Infusing dyes directly into specially-coated metal prints result in outstanding image clarity and vibrancy with exceptional detail and resolution. ChromaLuxe metal prints are also extremely durable, offering scratch and abrasion resistance without hiding your image behind glass. Our metal prints also offer the highest fade resistance compared to every other photo medium.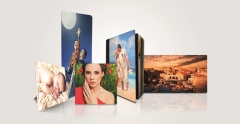 Order
To add products to your shopping cart, enter the quantity next to the corresponding unit you wish to order and click the Add To Cart button down the page. All prices exclude GST.
Description
Product Code
U.O.M
Stock
Qty
Colour
Price
GLOSS WHITE PHOTO PANEL 4" x 6" 4113

code -

4113
1
in stock

$5.95

Excl. GST

4 payments of

$1.49 (Excl.GST) with

High definition gloss white 4" x 6" Chromaluxe photo panel

GLOSS PHOTO PANEL 5" x 17" 4296

code -

4296
1
in stock

$17.90

Excl. GST

4 payments of

$4.48 (Excl.GST) with

High definition clear gloss 5" x 17" Chromaluxe photo panel

GLOSS WHITE PHOTO PANEL 5" x 7" 4054

code -

4054
1
in stock

$7.95

Excl. GST

4 payments of

$1.99 (Excl.GST) with

High definition gloss white 5" x 7" Chromaluxe photo panel

MATT WHITE PHOTO PANEL 8" x 10" 4008

code -

4008
1
in stock

$13.95

Excl. GST

4 payments of

$3.49 (Excl.GST) with

High definition matt white 8" x 10" Chromaluxe photo panel

GLOSS WHITE PHOTO PANEL 8" x 10" 5881

code -

5881
1
in stock

$13.95

Excl. GST

4 payments of

$3.49 (Excl.GST) with

High definition gloss white 8" x 10" Chromaluxe photo panel

GLOSS WHITE PHOTO PANEL 8" x 12" 4130

code -

4130
1
in stock

$16.50

Excl. GST

4 payments of

$4.13 (Excl.GST) with

High definition gloss white 8" x 12" Chromaluxe photo panel

MATT WHITE PHOTO PANEL 11.75" x 11.75" 4063

code -

4063
1
in stock

$19.75

Excl. GST

4 payments of

$4.94 (Excl.GST) with

High definition matt white 11.75" x 11.75" Chromaluxe photo panel

GLOSS WHITE PHOTO PANEL 11" x 14" 5882

code -

5882
1
in stock

$23.50

Excl. GST

4 payments of

$5.88 (Excl.GST) with

High definition gloss white 11" x 14" Chromaluxe photo panel

GLOSS WHITE PHOTO PANEL12" x 12" 4115

code -

4115
1
in stock

$19.95

Excl. GST

4 payments of

$4.99 (Excl.GST) with

High definition gloss white 12" x 12" Chromaluxe photo panel

GLOSS WHITE PHOTO PANEL12" x 18" 4131

code -

4131
1
in stock

$37.50

Excl. GST

4 payments of

$9.38 (Excl.GST) with

High definition gloss white 12" x 18" Chromaluxe photo panel

MATT WHITE PHOTO PANEL16" x 20" 4018

code -

4018
1
in stock

$52.00

Excl. GST

4 payments of

$13.00 (Excl.GST) with

High definition matt white 16" x 20" Chromaluxe photo panel

GLOSS WHITE PHOTO PANEL16" x 20" 4016

code -

4016
1
in stock

$52.00

Excl. GST

4 payments of

$13.00 (Excl.GST) with

High definition gloss white 16" x 20" Chromaluxe photo panel

GLOSS CLEAR PHOTO PANEL 18" x 36" 4138

code -

4138
1
in stock

$120.00

Excl. GST

4 payments of

$30.00 (Excl.GST) with

High definition clear gloss 18" x 36" Chromaluxe photo panel

GLOSS WHITE PHOTO PANEL 18" x 36" 4133

code -

4133
1
in stock

$120.00

Excl. GST

4 payments of

$30.00 (Excl.GST) with

High definition gloss white 18" x 36" Chromaluxe photo panel

GLOSS WHITE PHOTO PANEL 20" x 24" 4120

code -

4120
1
in stock

$72.00

Excl. GST

4 payments of

$18.00 (Excl.GST) with

High definition gloss white 20" x 24" Chromaluxe photo panel

GLOSS CLEAR PHOTO PANEL 24" x 24" 4277

code -

4277
1
in stock

$89.00

Excl. GST

4 payments of

$22.25 (Excl.GST) with

High definition clear gloss 24" x 24" Chromaluxe photo panel

GLOSS WHITE PHOTO PANEL 24" x 24" 4121

code -

4121
1
in stock

$89.00

Excl. GST

4 payments of

$22.25 (Excl.GST) with

High definition gloss white 24" x 24" Chromaluxe photo panel

GLOSS WHITE PHOTO PANEL 24" x 30" 4122

code -

4122
1
in stock

$96.00

Excl. GST

4 payments of

$24.00 (Excl.GST) with

High definition gloss white 24" x 30" Chromaluxe photo panel

GLOSS CLEAR PHOTO PANEL 24" x 36" 4279

code -

4279
1
in stock

$142.00

Excl. GST

4 payments of

$35.50 (Excl.GST) with

High definition clear gloss 24" x 36" Chromaluxe photo panel

GLOSS WHITE PHOTO PANEL 24" x 36" 4123

code -

4123
1
in stock

$142.00

Excl. GST

4 payments of

$35.50 (Excl.GST) with

High definition gloss white 24" x 36" Chromaluxe photo panel

SEMI GLOSS WHITE PHOTO PANEL 30" x 45" 9721

code -

9721
1
in stock

$175.00

Excl. GST

4 payments of

$43.75 (Excl.GST) with

GLOSS WHITE CIRCLE PHOTO PANEL 8" 4144

code -

4144
1
in stock

$16.50

Excl. GST

4 payments of

$4.13 (Excl.GST) with

High definition gloss white 8" circle Chromaluxe photo panel

GLOSS WHITE CIRCLE PHOTO PANEL 16" 4146

code -

4146
1
in stock

$39.00

Excl. GST

4 payments of

$9.75 (Excl.GST) with

High definition gloss white 16" circle Chromaluxe photo panel

GLOSS WHITE CIRCLE PHOTO PANEL 20" 4147

code -

4147
1
in stock

$69.00

Excl. GST

4 payments of

$17.25 (Excl.GST) with

High definition white gloss 20" circle Chromaluxe photo panel