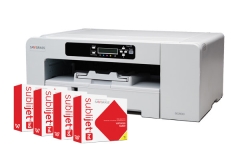 Order
To add products to your shopping cart, enter the quantity next to the corresponding unit you wish to order and click the Add To Cart button down the page. All prices exclude GST.
Description
Product Code
U.O.M
Stock
Qty
Colour
Price
Subli-Light (No-Cut) A4

code -

9500097498
1
in stock
$1.70 Excl. GST
With FOREVER Subli-Light (No-Cut), it is finally possible to transfer full-tone colors to white and light-colored cotton textiles, as well as white fabrics and surfaces. Without Cutting a......
ARTESPRIX SUBLIMATION MARKERS

code -

MARK10
1
in stock
$54.95 Excl. GST
Transfer Drawings from Plain Paper to White or Light Colored Polyester Fabric or Polyester Coated Materials Unleash your inner artist! Now you can transfer your designs from plain paper to almost any......
ImprintBox Premium 300

code -

IB-300P
1
in stock
$1,250.00 Excl. GST
500ml Glitter S/S Bottle (Pink)

code -

BW19GT-P
1
in stock
$16.60 Excl. GST
Material: Stainless steel Size: 17oz/500ml capacity, φ7*26cm Color: Pink Shrink Film: RSMW125-4 ...
CERAMIC TILES 4" HEART SHAPE

code -

HT01
1
in stock
$4.20 Excl. GST

Material: Ceramic
Color: White Size: 4''

BOTTLE OPENER - Bottle Shape

code -

MPQ02
1
in stock
$2.85 Excl. GST

Material: 402 stainless
Size/Printing Area: 4*14cm Printing at 180C, 120S

Keepsake Box - Black

code -

SPH44BL
1
in stock
$16.25 Excl. GST
4.25" x 4.25" Ceramic Tiled Jewelry Box Material: high quality rubber wood, and white soft fabric, with brilliant varnish. Ceramic tile not included ...
Glitter Tote Bag

code -

HBDGT21WH
1
in stock
$9.45 Excl. GST
Material: Glitter Polyester, with zipper inside of tote bag Color: White Size: 34*37cm Referential Printing Parameters: 180?, 120 seconds ...