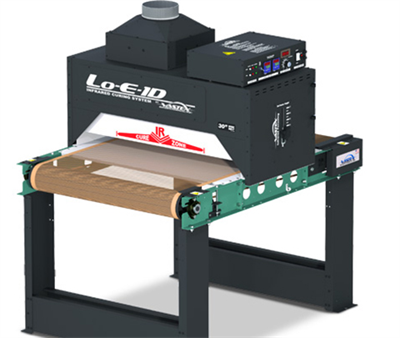 LITTLE RED INFRARED CONVEYOR DRYER

LR-LO-E1D
We are celebrating becoming an Authorised Vastex Dealer by offering 10% off the first 2 units sold!
Fast curing of all DTG inks and pretreatment, as well as screen printed water-based inks and discharge — at a low 2.85 kW of power, drawing only 12.5 amps @ 230V!

The compact Lo-E 1D is ideal for use in any shop where limited floor space or limited amperage is a concern. Measuring 41 in. (105 cm) wide by 48 in. (122 cm) long, this model can cure up to 23 garments/h printed with digital white ink at 3 minutes dwell time, or 64 garments/h with DTG pretreatment only or water-based inks at 60 seconds dwell time.
Engineered for energy-conscious printers, the 18 in. (46 cm) long heating chamber houses a 24 in. (61 cm) wide by 16 in. (40 cm) infrared heater that provides 2,850 watts (2.85 kW) of power while drawing only 12.5 amps at 230V. Height-adjustable, the heater carries an industry-leading 15-year warranty, and is configured with a boost zone and dual controls for temperature adjustment from 0 to 950°F (0-524°C).
The 30 in. (76 cm) wide conveyor belt runs true by means of a low friction belt aligner patented by the company, with belt speed controls allowing infinitely adjustable dwell times from one to five minutes.
A 280 CFM (7.9 m3/min.) exhaust system evacuates moisture and air contaminates from the heating chamber, and cools the enclosure's outer skin and control panel.
As with all Vastex floor-standing dryers, the modular design allows for expandability to easily add chambers and conveyor length as production needs increase.
BELT WIDTH
(Maximum garment width)
30" (76 cm)
HEATER WIDTH
24" (61 cm)
ENERGY EFFICIENT
Draws only 12.5 amps at 230V for highly efficient curing
DEPENDABLE
Industry-leading 15-year heater warranty
Was: $9,375.00 Now: $8,435.00
Excl. GST
Product info
EXPANDABLE
Add additional chambers and belt extensions
ADVANCED
Top-mounted, Focused Exhaust Air System evacuates fumes and moisture quickly
HEAVY DUTY
"X-Series" Conveyor Belt Roller Tracking System with Teflon coated fiberglass belt and HD belt motor
ADJUSTABLE
Speed, temperature, heater height and heater angle
CONSISTENT
Precision DC belt speed control with digital display
BEST VALUE
Best warranty, high quality, exceptional service
ELECTRICAL SPECIFICATIONS
230V / 12.5A / 1 PH / 3 WIRE 50/60HZ